In the part 3 of the Fedora Core 4 discovery pack I will explain the creation of the discovery management pack in detail.
Creating the new MP for Discovery:
Open the Authoring Console (please use the newest on. I have used 6.1.7221.49)
File –> New and enter the required values
File –> Management Pack Properties
Select the tab References –> Add Reference
Add Reference to Microsoft.Linux.RHEL.4, change the alias to RHEL4 (it's shorter and easier to use) and a reference to the Microsoft.Unix.Library with the alias Unix. Your reference tab should look like the picture 1 (the picture has another reference to linux but this will be added automaticly with the discovery)
Switch to Health Model, select Discovery
new Custom Discovery, name Technidata.Fedora.4.Computer.Discovery

Target: Microsoft.Linux.RedHat.Computer
Discovered Classes: Add class Microsoft.Linux.RHEL.4.Computer
Configuration: Browse… and select: Microsoft.Unix.WSMan.TimedEnumerate.Filtered.MatchesRegularExpression.DiscoveryData and add a module id like discovery
Press Edit and enter the xml from part 2 into the editor: replace the text between Configuration> and </Configuration> with the XML text <TargetSystem>[…]</InstanceSettings>
Close the editor
your discovery tab should look like picture 2

Do the same with the second xml from part 2
Your discovery pack is ready to be imported into your test SCOM environment.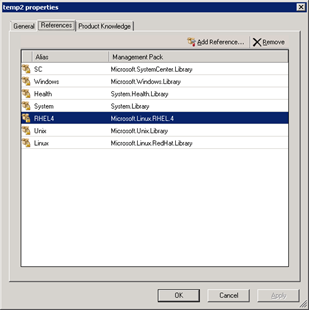 Picture 1: Reference Tab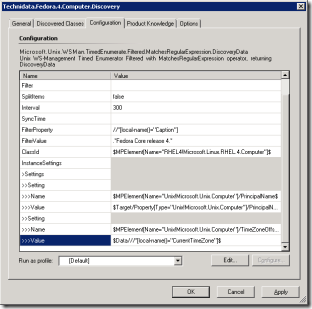 Picture 2: Discovery